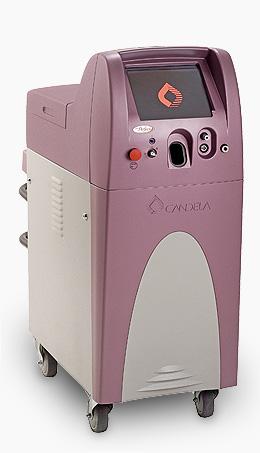 Laser Rejuvenation
Vbeam Laser Treatment
The Vbeam is a pulsed dye laser that delivers an intense but gentle burst of light into a targeted area of your skin.  The light is absorbed by specific blood vessels or melanin pigmented areas in the dermis.  The Vbeam laser is for patients with rosacea, red and brown age spots, broken blood vessels, uneven coloring of face, neck and chest and helps with overall firming of the skin.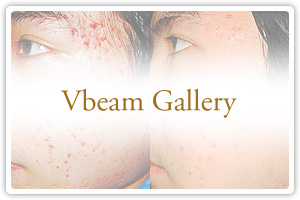 www.candelalaser.com
www.vbeam.com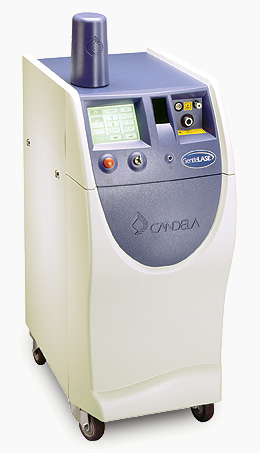 GentleLASE
Hyper pigmentation, (sun and age spots), are caused by sun exposure, hormonal influences and genetics. Candelas GentleLASE, (Alendrite Laser), is an extremely useful tool in the treatment of hyper pigmentation. The results obtained with the Gentle Lase are safer and have shorter healing time, with less risk, than ablative methods such as CO2 resurfacing, deep acid peels and liquid nitrogen.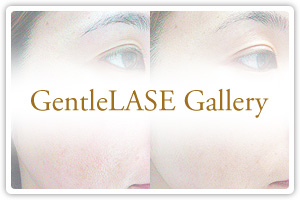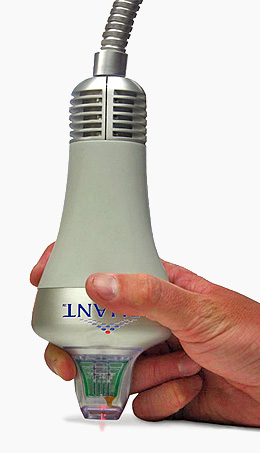 Fraxel® Laser Skin Rejuvenation
Fraxel Laser Treatment produces thousands of tiny microthermal treatment zones.  The Fraxel Laser eliminates old epidermal pigmented cells by penetrating deep into the dermis.  Fraxel Laser Treatment only targets 20-25% of the skins surface and requires 3-5 treatments every 4 weeks.  Fraxel is FDA approved for the repair of soft tissue, skin resurfacing, correction of periorbital wrinkles and skin discoloration.  During the following weeks after your procedure the body repairs the deeper dermal tissues effected and produces beneficial changes.   Results are progressive and optimal improvement is visible within 3 months. 
Fraxel has the ability to only target the areas the patient wants and leaves the surrounding tissue unaffected and intact.  Fraxel is effective even on delicate skin areas, such as the neck, chest and hands.  Fraxel effectively improves the texture of your skin, making your skin softer, smoother and tighter.  Your fine lines around your eyes and face will noticeably fade with the Fraxel Laser. 
The procedure is done in our Laser Skin Care Center by our Registered Nurses.  Our nurses will apply a topical anesthetic to the treatment area and wipe it off after it takes effect, which is followed by OptiGuide Blue an FDA certified water soluble tint.  This is then applied to the treatment area to highlight contours of your skin and then Fraxel Laser Treatment begins.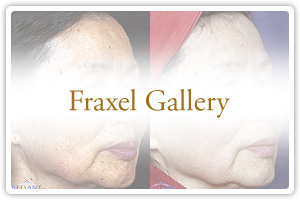 Additional Treatments
Vibraderm™ Microdermabrasion
A simple, quick, effective and relaxing treatment performed by our Registered Nurses.  Vibraderm uses a set of vibrating paddles that remove layers of damaged tissue giving you healthier and more radiant skin.  Vibraderm exfoliates the skin and produces new collagen.  Vibraderm treatments help to reduce dullness, dry or oily skin and the size of your pores.
This lunch break peel fits into anyone's schedule, leaving you refreshed with softer and smoother skin. With a series of treatments it will diminish pore size, lessen fine lines, and reduce wrinkles. Combining the vibraderm with topical lotions and creams can maintain the character of your skin and lessen the solar damage that affects your skin on a daily basis. Vibraderm ™ can be applied to the hands, arms, and chest to give further improvements in areas other than the face. Contact our office in La Mesa, near San Diego, today to schedule a skin care or microdermabrasion consultation with Dr. Wheeler.
Obagi Blue Peel
The OBAGI Blue Peel is an in-office procedure, relatively simple and does not require sedation.  The OBAGI Blue Peel is unique because it allows your doctor to control the depth of the peel and the number of coats applied, based on your skins specific needs.  The OBAGI Blue Peel uses a low concentration of TCA mixed with a specific blue base to slow penetration.  This peel is designed to significantly improve the appearance, texture and health of your skin.  It effectively removes the thin surface layers of aged, damaged skin from the face and or other parts of the body.  The OBAGI Blue Peel will dramatically improve your complexion in just one day.
CO2 Laser
This laser is the bench mark to which all other treatments are compared. This laser will produce the greatest degree of improvement in deep wrinkles of the face. Laser energy stimulates new collagen growth, producing years of improvement. The procedure is done under anesthesia by Dr. Wheeler and the recovery time is two full weeks.
SkinMedica Peel System
SkinMedica offers a comprehensive peel system that consists of 3 different chemical peels with different acid strengths. These peels are designed to produce various degrees of exfoliation, based on each patient's individual needs. All of these peels are designed to treat skin conditions from mild to severe, including photo damaged skin, fine lines and wrinkles, pigmentary irregularities, acne scarring, and acne.
Vitalize Peel
This non-invasive peel has the added ingredient of Retinoic Acid, which results in a stronger and deeper peel. This peel will help patients with moderate skin conditions, including fine lines and wrinkles, sun damage, pigmentation, acne and acne scarring. The Vitalize Peel is appropriate for all skin types, with little to no down time, creates mild to moderate peeling, and gives significant results.
Rejuvenize Peel
This is a superficial peel that penetrates deeper into the layers of the epidermis, and produces the most exfoliation. The formulation includes a blend of peeling agents: alpha-hydroxy acids, beta-hydroxy acids, resorcinol and retinoic acid. This peel will help patients with moderate to severe lines and wrinkles, sun damage, pigmentation, acne and acne scarring. Patients of all skin types can be treated. The Rejuvenize Peel has minimal downtime and patients will achieve noticeable improvement and significant results.
Pigment Balancing Peel
This pigment balancing peel is a customized, professional treatment targeting hyperpigmentation and dramatically improves the uneven appearance of photodamaged, mottled skin after a series of 4-6 treatments.  This peel combines high performance brightening and anti-inflammatory agents with a peeling acid solution to accelerate cell renewal and diminish uneven skin tone and hyperpigmentation.
Dermaplaning
Dermaplaning is a deep exfoliating technique which removes dry, dead, skin layers through the manipulation of the straight edge of a dermaplaning blade.
This procedure is ideal for skin that is environmentally damaged and in need of rejuvenating benefits.
TCA Peels
Trichloroacetic acid skin peels are considered a mid-level treatment. TCA comes in variable strengths that allow depth control. We can individualize the treatment plan and the goals of treatment, specifically for you and your skin care needs. TCA will rejuvenate the skin by reducing fine wrinkles and giving the skin better tone and texture. Pigment changes also improve. These treatments go deeper than a Vibraderm or glycolic acid peels. The down time is 5 to 7 days. Dr. Wheeler performs the TCA peels in the surgery center.
Surgical Dermabrasion
This procedure is meant for improving deep wrinkles and animation furrows in the lips and forehead. Only deep treatments can reliably produce improvement in these deep areas of the face. These treatments are done under anesthesia by Dr. Wheeler and recovery time is about two weeks.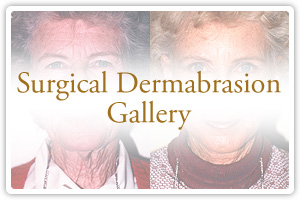 Dr. Wheeler, your San Diego skin care expert, provides facial rejuvenation treatments, laser hair removal, and a host of other procedures to improve and enhance your appearance. Contact our office in La Mesa today for a consultation with Dr. Wheeler to learn how personalized plastic surgery can help you look your best.